"I said pour yourself a drink, put on some lipstick, and pull yourself together."
-Marilyn Monroe
There's just something about lipstick that makes everything a little more pleasant. When I've had a shit day, I go home, do my hair, put on some lipstick, and just bask in my own awesomeness. Well sometimes I enter the general populace, but I'm more likely to hermit if I'm feeling like a grump.
I've been a fan a lipstick, red to be exact, for as long as I can remember. Sneaking it on during the bus ride to freshman year, because I wasn't allowed to wear something so dark, I felt cool.
I felt mysterious. I felt awesome.
My love affair with red lips is just as strong as ever.
But I have a confession. I might be a lipstick hoarder. In fact I've added 9 new lipsticks to my collection yesterday alone.
To my own credit though, they're cheapies. Like 1.99 cheap. I also had a 50% off coupon, which brought them down to a buck a piece. Totally worth it. Plus since it wasn't 20 dollars a lipstick I wasn't afraid to try some new colors. They're the Wet n' Wild Mega last lipsticks, which are the best you can get for that price. The color payoff is great, but the formula leaves a bit to be desired.
Here's some swatches to show you guys my haul.
My lips, and my Gap. No primer or liner.
I mean really, you're not going to get better looking lipstick for two dollars.
Side note, Fire & Ice is a Revlon color, and one of their original colors. It's vintage, shall we say? It's a pretty close match to red velvet, the color is a bit deeper red though. I couldn't stop myself from wanting it when I saw this ad on a blog recently.
Click to enlarge and take the Quiz!
Back to the Wet n' Wild lipsticks though, starting with the good points.
Great color pay off.
Cheap as hale.
Very long lasting, made it all the way through dinner.
More matte than shiny.
Good selection of colors.
Now the not so good
The lipstick needs to warm up a bit to apply well. I normally start in the center of my bottom lip, working outwards. It lets the lipstick go on a bit smoother with the friction and body heat.
Dry Formula. I would definitely recommend you exfoliate your lips and apply a moisturizer to your lips before you even think about putting mega-last lipsticks on. Because the formula is rather dry it will show every dry spot on your lip, and will apply really poorly if you're chapped. I have a feeling that the lack of moisturizers is what helps the product last so long though.
Flat top shape. Unlike most lipstick the shape of this is flat instead of slanted. It's kind of annoying to apply to your cupids bow where a taper would help a lot. You could always apply with a brush to avoid that though.
Not all the lipsticks had the color name on the bottom, some just had the shade number. The color name is printed on the packaging that you remove, so that's kind of pointless.
Overall, and it gets big ups for the price, you can't go too wrong with this lipstick. Some people have said that the lighter shades can be a bit chalky, but I didn't find that to be a problem with my light shade(rose bud). It"d be a great way to try a color you wouldn't normally go for. I know that a lot of the colors avaible are mac dupes. Here are some of the dupes for colors I got.
Purty Persimmion 1.99 – Mac Sail La Vie or
Mac So Chaud
15.99
Stop Light Red 1.99 – Mac Russian Red 15.99
Fire & Ice 3.99 or Red Velvet 1.99 – Mac Lady Danger 15.99
What's my favorite color? As of right now it is definitely Cherry Bomb. Maybe I've been watching the craft one two many times, but I think it looks pretty awesome on me.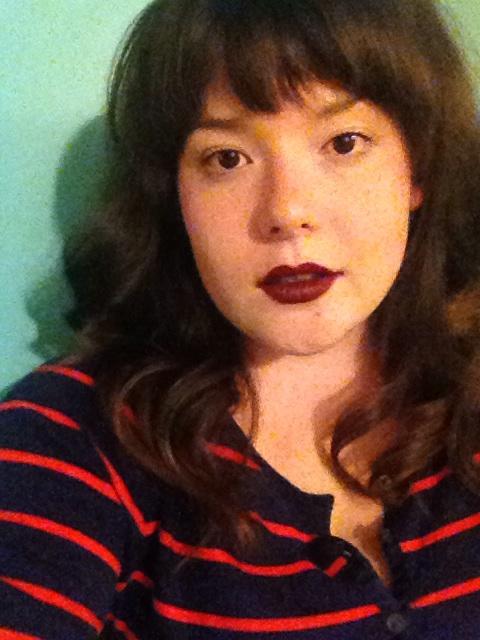 Have you found your perfect shade?